รายละเอียด:

Meet this cute girl "Mini chan" who comes in rock and pop style fashion!
She is our newest and the first collaboration doll with popular kids fashion brand "HYSTERIC MINI"!
Mini chan's fashion points are her cute items and black x pink coordinate clothing.

Her inner cloth is a La Gran sleeves t-shirt and her 2 layers mini skirt with Mini chan's rubber print.
Her leggings have Mini chan and HYSTERIC MINI's logo printed. Pop style keyword motifs on these leggings are very cute too!
For her boots, we chose engineer boots those give her a little bit tough image.
She is also wearing a pink and black blouson. We want you to look closely at the neat embroideries on it.
There are "H" initial for HYSTERIC MINI on the front and Mini chan's logo on the back.
Hair color is vivid yellow.
Hair style is center parted with lightly perm long hair.
You can also arrange her hair in up style and she will be exactly the same as Mini chan.
Her doll stand is beautiful clear pink with lamé.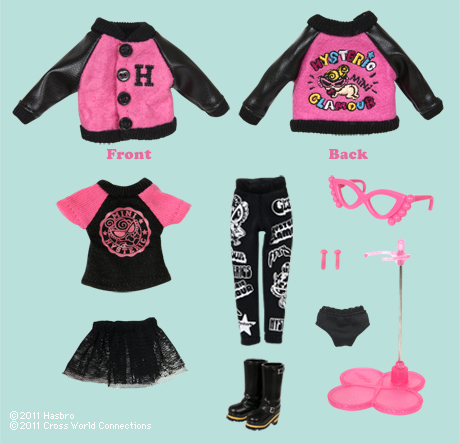 Skin type: natural skin
Make up: eye shadow: light blue, lips: pink, cheek: pink
Eye color: blue
Hair color: vivid yellow
Earrings: with earrings
Set detail: doll, t-shirt, skirt, blouson, leggings, sunglasses, Earring, shorts, boots, stand


Date Available : NOVEMBER 2011
Limited to 1,800 Dolls.