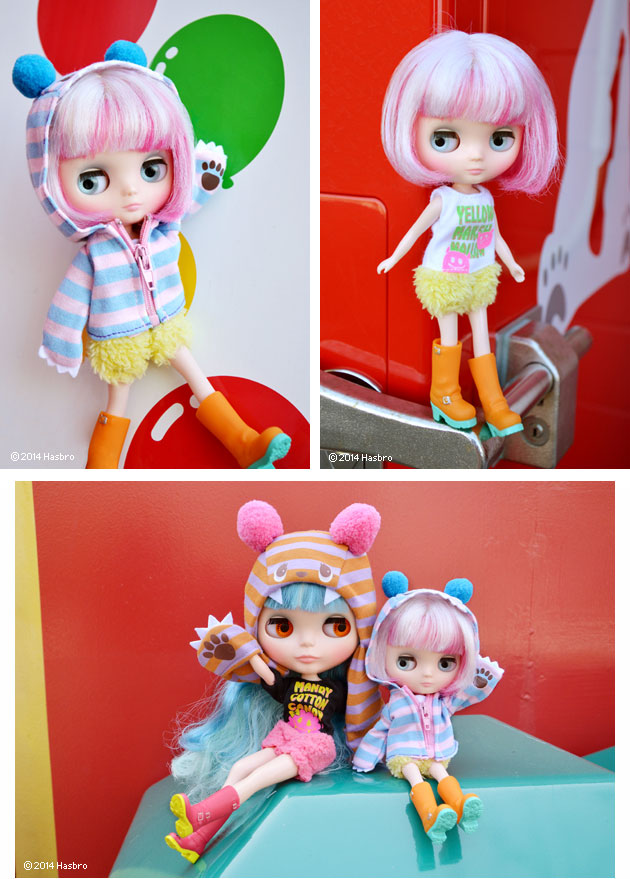 Yellow Marshmallow is so excited to go to the amusement park with her best friend Mandy.
They play together on all the rides and win prizes at the midway.
At the end of the day she's excited to eat marshmallows. They had a very fun day!

Yellow wears a fun new monster face hood!
The pink and blue stripes are accented with cute, pom-pom ears, fangs and little claws.
This sweet hood transforms her into a little fashionable monster.
Her hands can go into the
little pockets to become paws.

Her shirt is printed with her name and cute pink monsters.
Her shirt and shorts are a one piece jumper.
The shorts portion is fluffy and soft. She
has long orange boots with teal, contrasting soles and silver painted buckle.

Yellow Marshmallow has a new style of hair for Middie!
Her hair is silver on the surface but underneath is vivid pink.
Her bob is styled with a soft curl to keep it's sweet shape.

This cheerful and fun girl is ready to play!
She has youthful makeup with light blue eyeshadow, and soft pink lips and cheeks.