Lace and Ribbons, a Lolita's favorite things! Neo Blythe Gracey Chantilly final design!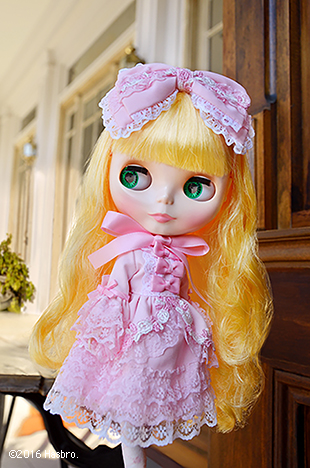 My Lolita dress is very special!
It was made from dyed lace passed down from my grandma, the only one in the world!

Gracey Chantilly wears a very traditional Lolita dress with a large ribbon accessory.
Her outfit is very princess-like, spreading outward and flowing.
The wide mouthed sleeves, ribbons adorning the front of the dress, and the center parted over skirt and underskirt are decorated lavishly with lace and flowery blades.

The large ribbon head dress is also decorated with lave and flowers, and can be tied down below the chin with a satin draw string.
Her printed socks compliments her ribbon laced pumps well.

Her honey gold hairstyle is a lightly permed cut with straight bangs, and her make up consists of brown eyeshadow, pink cheeks and lips, perfect for any Lolita girl out on a sunny stroll.
Her right facing eye chip is a special Light Blye. Her face color is cream, and her face type is Radiance Renew.

Face Type: Radiance Renew (A new mold based off of Radiance)
Face Color: Cream (pale skin)
Make up: Eye shadow - brown, Lips - pink, Cheeks - pink
Eye color: Blue (front), Light Blue (Right, Special Color), Pink (front), Green (left)
Eye lashes: black
Hair color: Honey Gold
Set includes: doll, dress, head accessory, shorts, socks, pumps, stand (17.5cm)

Release Date : MAY 2017