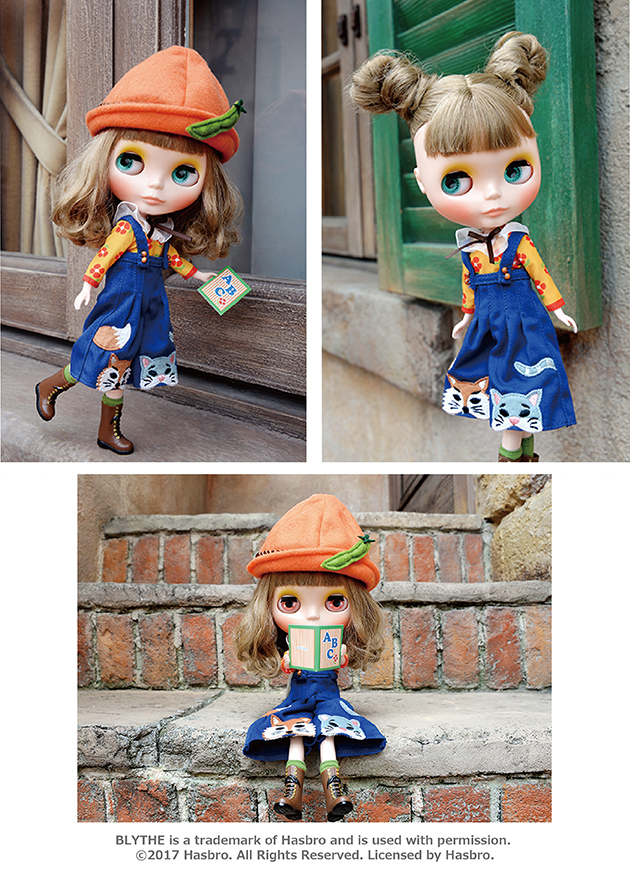 "Vera Florentine" is interested in so many things!
She is enraptured in the story of the fox and cats.
She's so close to playing with them but she has to be careful.
She loves to study hard and is a good girl!

"Vera Florentine"s outfit is in a cute tom-boy style.
The color palette is retro with simple and warm colors.
The overall style is that of a character from a children's story.

Organza and stain ribbon decorate the neck of the red flower patterned blouse.
Her salopette pants have cute fox and cat appliqué.
The cute wooden buttons on her pants brings an interesting texture to the look.
Don't forget her orange felt hat which she can never leave home without!
The hat has a cute accent of rope cord around the brim.
She has green socks and brown workboots, perfect for running around in the forest.

The face type is Radiance +, face color is fair (natural skin).
Her hair is light brown, her hair style is short with bangs in a bob with a soft perm.
She wears yellow eyeshadow, with salmon pink lips and cheek.
She has one set of special blue green eye chips with a left glance.

Face Type: Radiance+
Face Color: Fair (Natural Skin)
Makeup: Yellow eyeshadow, Salmon Pink Lip and Cheek
Eye Color: Orange (front), Blue (right), Pink (front), Blue Green (Special eye color *left)
Eyelash: Default
Hair Color: Light Brown
Set Includes: Doll, blouse, salopette pants, hat, shorts, socks, shoes, stand (17.5 cm), and paper accessories

Release Date : AUGUST 2017