Tsumori Chisato Collab Blythe CWC Exclusive Neo Blythe Tsumori Spirit Dazzling Blythe -Together at Last- Final Specs!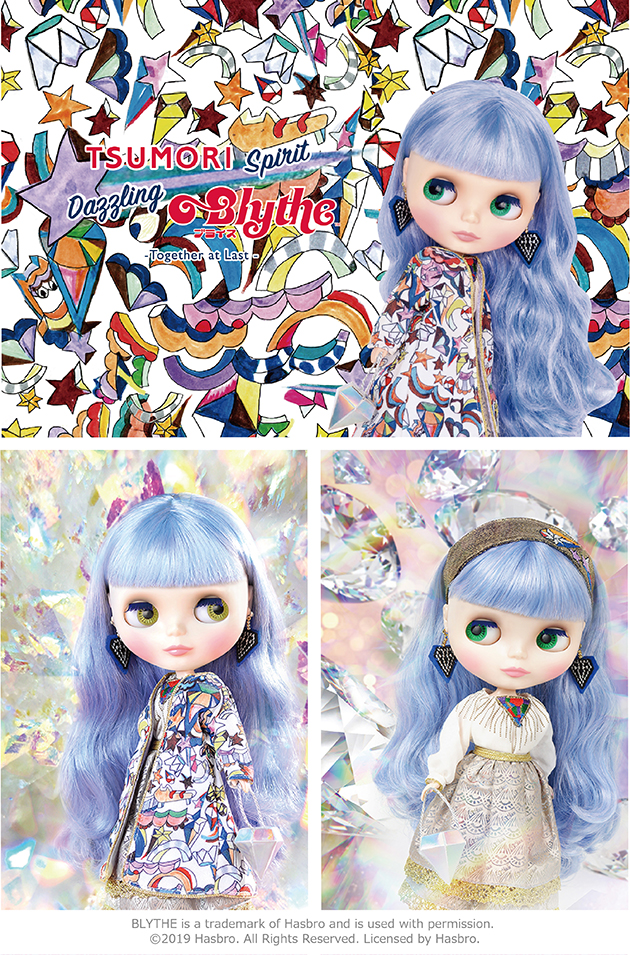 For our first collaboration with Tsumori Chisato, Blythe will be wearing their 3D Paradise coat with an elegant blouse and lacey skirt, drawn out by Chisato herself!
This collaboration will be a condensed Tsumori Chisato experience!
The coat is completely covered in a 3D Paradise print. The neckline, front, and hem are lined with gold piping, and the chest of the blouse is accented with colorful diamonds. The skirt uses a see-through material with gold lace printed on top, which shows the 3D Paradise print that lies below it. The hem of the skirt is decorated with lace.
The accessories include a gold headband with star decorations, blue/black diamond earrings, and an aurora borealis diamond bag. Her boots are a brand new long boot, with blue-green soles, purple upper heel, silver lower heel, and blue sidelines. A very special boot.
Her face type is Radiance+ and her face color is cream.
Her hair is cut straight across the bangs with a slight perm.
Her hair is a brand new blend of light blue and light purple, made just for her!
Her eyeshadow is brown, and her eyelids are light brown. Her cheeks and lips are pink. Her eyelashes are a special ink blue.
One of her front facing eyes are a special light purple, and her right facing eye is light green.
The eye change charm is a cute illustration of a star and a cat with the Tsumori Chisato and Blythe logos printed on top.

Makeup: brown eyeshadow, pink lip, pink cheek
Eye Color: Light purple (front, special), light green (right, special), blue (front), green (left)
Eyelash: Ink blue (special)
Hair Color: Light blue/light purple mix
Earrings: Diamond earrings
Set Includes: Doll, coat, tights, blouse, skirt, shorts, hair band, boots, earrings, bag and stand (17.5 cm)

Release Date : APRIL 2019