Her Adventure Continues Beyond the Looking Glass… CWC Exclusive Neo Blythe Time After Alice Final Specifications.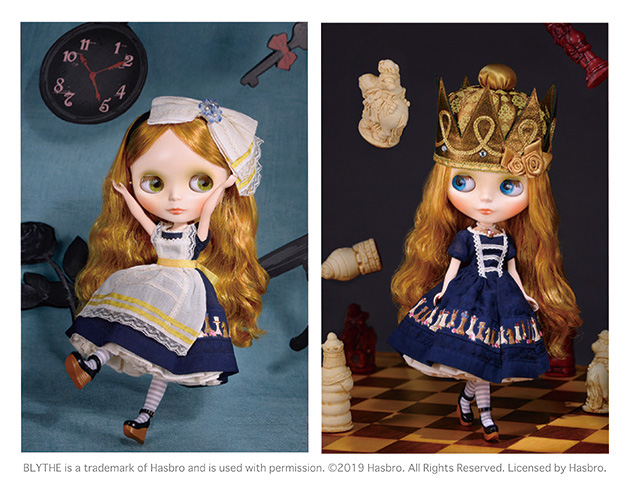 A strange and wonderful world exists through your mirror, where Alice must navigate an all encompassing game of Chess!
Did I dream that I won and became Queen?
Alice Blythe has arrived at the chic and feminine styles of Wonderland, through the Looking Glass.
Her navy dress' underskirt is decorated with a chessboard design, with the overskirt sporting various chess pieces on top.
Below that, a gathered 4 layers of pannier give volume to her overall look.
At her body is a translucent apron with pico-lace accents, a ribbon head dress, pearl necklaces, and an assortment of other sweet accessories.
She wears knee length under drawers, a pair of gray and white knee high socks, and black strap shoes below.
Her Queenly crown tops it all, with heft and gravitas.
The crown is made with PU leather and satin, as well as rhinestones, flowers, and blading to give it an extravagant look.
Her face type is Radiance Renew, and her face color is cream.
Her hair is a yellow/light brown mix which is slightly permed.
She wears olive green eyeshadow with olive green eyelids and brown eyelashes.
Her cheeks and lips are salmon pink, with the lips slightly blurred along the edges.
Her eyes are light blue, olive green, light brown, and blue, all special colors.
Her eye change item has a crown and clock printed on.

Face Type: Radiance Renew
Face Color: Cream
Makeup: Olive green eyeshadow, salmon pink lip with blurred edges, salmon pink cheek
Eye Color: Light blue (front), olive green (right), light brown (front), blue (left) *all special colors.
Eyelid: Olive green
Eyelash: Light brown
Hair Color: Yellow and light brown
Earrings: Hearts
Manicure: Salmon pink
Set Includes: Doll, dress, pannier, apron, crown, head dress, ear rings, necklace, knee high socks, drawers, shoes, and stand (14.8 cm)

Release Date : AUGUST 2019