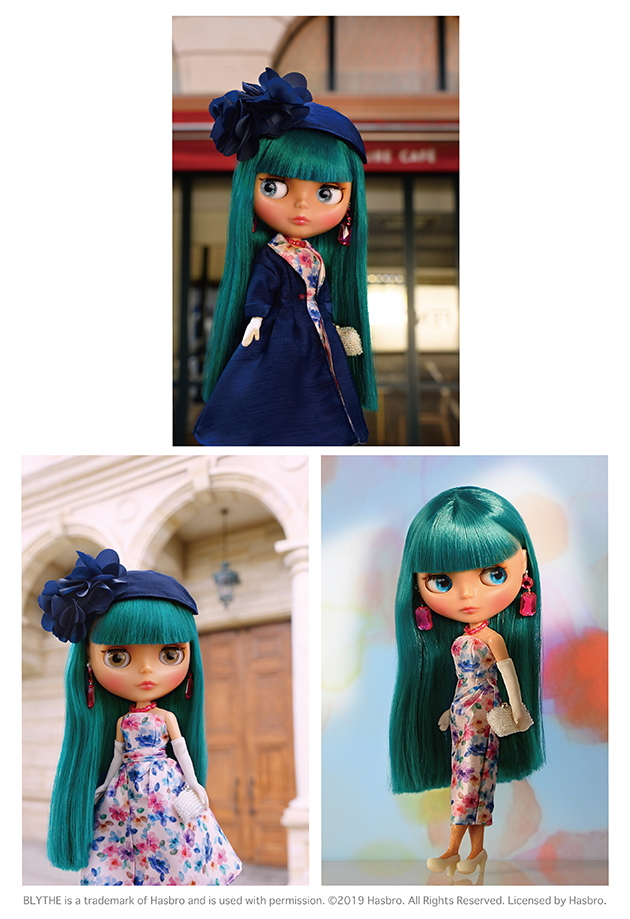 I recommend watching Dreamy Eyes, starring Lucy! She's an amazingly talented actress and my best friend, who I have supported from the very beginning.
I can't wait for the premier tonight, it's going to be such a hit. Congratulations Lucy!
The charming and lovable Lucy and her capable and excellent manager Ellie are the hit of their premiere.
Ellie wears a satin full body dress covered in a flowery print which can be arranged in two different ways for a change in style. Keep it tight for a more mature look or add the skirt for a flowing, wide silhouette!
The coat is made with navy shantung, made to softly envelope the silhouette of the skirt. The lining is made with the same material of the dress.
Accessories include a pink accented rhinestone earring and a bead necklace, as well as a pair of long gloves, gold lame stockings and high heels to round out her formal look.
Her face color is a tanned translucent late.
Her face type is Radiance Renew.
Her hair is a vibrant blue green which goes well with her equally vibrant make up.
Her eyeshadow is brown, with liner in her eyeline.
Her eyelashes are a special dark brown which compliments her brown eyelids.
Her cheeks are pink, with a soft magenta glow to her lips.
Two of her eye chips are specially made; a front facing light brown, and a left facing light blue.

Face Type: Radiance Renew
Face Color: Latte
Makeup: Brown eyeshadow, magenta lip, pink cheek
Eye Color: Light brown (front), blue (right), green (front), light blue (left)
Eyelid: Brown with brown eye liner
Eyelash: Dark brown
Hair Color: Blue Green
Earrings: Pink rhinestones
Manicure: Pink
Set Includes: Doll, dress, overskirt, gloves, coat, head accessories, ear rings, necklace, bag, stockings, shorts, shoes, stand (stand length 13.8cm)

Release Date : SEPTEMBER 2019