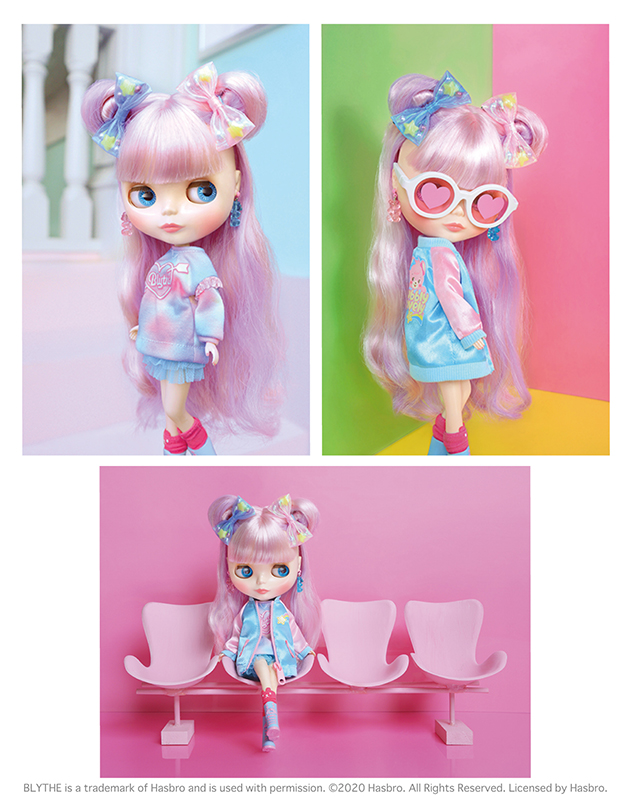 Sweet Bubbly Bear is my dearest friend!
His cute little eyes bring a warmth to my heart,
and I love to hug his soft and fuzzy body!

Sweet Bubbly Bear's fashion consists of bears, hearts, and stars, all contained within a pink/blue color scheme.
She wears a Blythe logo pastel gradation top and a pair of short pants with a blue tulle lace layer.
The sleeves and the back of her satin jacket are a different color and has shooting star and Bubbly Bear details.
Her accessories include a pair of hair bands with ribbon and star beads, a pair of white-framed sunglasses, and short boots with pink shoelaces and soles.

Her face type is Radiance Renew, and her face color is cream.
Her hair is cut straight across the bangs and is lightly permed, with a pink outer layer dye and purple inner layer dye.
Her eye shadows are brown, cheeks are pink, lips a puffy clear pink, and her eyelashes are brown.
A special light purple color is set on her left facing eye chips.

Face Type: Radiance Renew
Face Color: Cream
Makeup: Brown eye shadow, puffy pink lip, pink cheek
Eye Color: Orange (front), blue (right), pink (front), light purple
(left, special color)
Eyelid: Default
Eyelash: Brown
Hair Color: Purple and pink two toned color
Earrings: Bear earrings
Manicure: Pink
Set Includes: Doll, top, short pants, jacket, 2x hair bands, earrings,
sunglasses, socks, shoes, shorts, stand