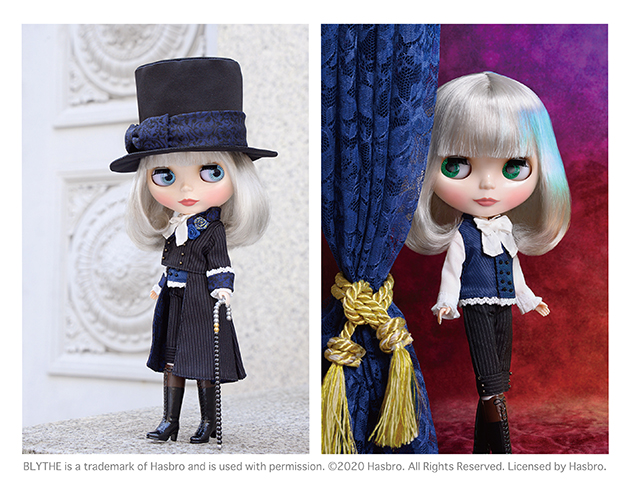 I love dandy, nobleman fashion!
I dressed up on a suit with my sharp accessories of top hat and walking stick.
Let's all look handsome!

The pinstriped suit has a long jacket with short pants. The gorgeous lace and corsage at the delicate details. The shit has lovely ruffles on the necklines and cuffs complete with a ribbon around the neck. The look also has a navy colored vest with silver cummerbund, which completes the formal look. The coordination is complete 3 colors of silver, gold and black with long boots of brown and black.

The face type is Radiance Renewal with cream face color.
The silver hair is a long bob which lends itself to a dandy, prince style.
The eyeshadow is grey with salmon pink cheeks and lips.
There are two special colors of light blue in the right gaze and gray with front facing gaze.

Face Type: Radiance Renewal
Face Color: Cream
Makeup: Eyeshadow: Gray, Cheek and Lips: Salmon Pink
Eye Color: Blue (front), Light Blue (right), Gray (front), Green (left)
Hair Color: Silver
Set Includes: Doll, shirt, vest, cummerbund, coat, pants, hat, walking stick, socks, shoes, shorts, and stand

Release Date : JUNE 2020