20th Anni. final translation: Introducing CWC Exclusive 20th Anniversary Neo Blythe "Twenty Years of Love"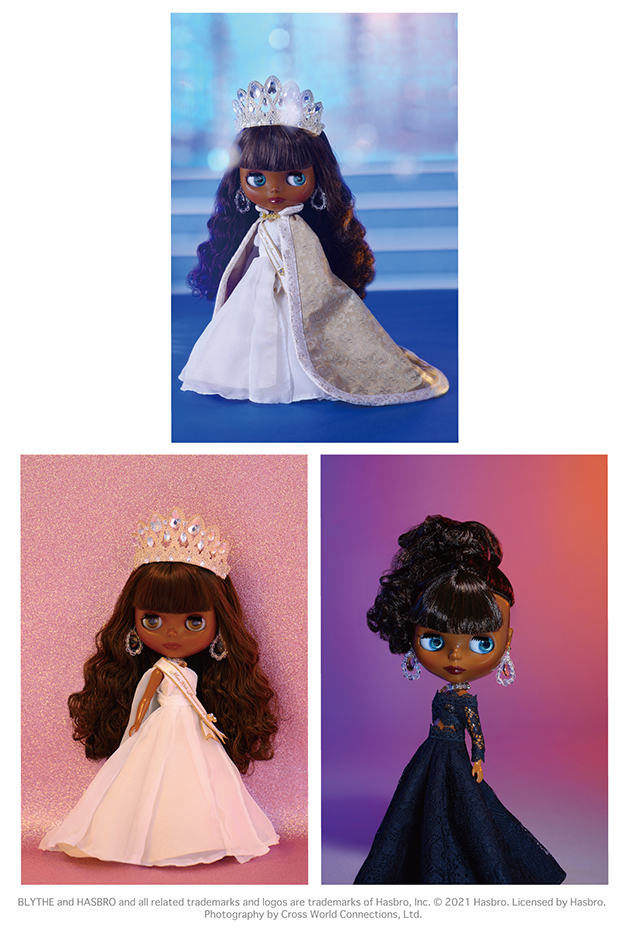 Blythe's 20th anniversary doll, "Twenty Years of Love" will only be available by CWC produced shops.
We would like to express our gratitude and infinite love to all the people who have been involved in the rebirth of Blythe and all the fans who have loved her. It is our hope that this doll will inspire people all over the world, transcending national borders to feel the love.

The theme of "Twenty Years of Love" is Miss Blythe contest. It is set with two scenes of outfits that won the grand prize of the contest.

1st Outfit: Fashion, White & Gold coordinate dress with cape
The cape has a champagne gold inner dress and a sheer overlay. The overdress is softly tucked at the top and waist and resembles a stole hanging from the shoulders to the back. The inner dress is champagne colored with a gentle shine. There is a long petticoat underneath all of this to create a lovely volume of the skirt.
Over the dress she wears a long gold cape with floral motif. White Jacquard is used for the collar and edges of the gown.

2nd Outfit: Fashion, Black lace coordinate dress
The top of the set is a short bustier that beautifully shows the line of the décolleté and waist. The neckline, hem and cuffs are adorned with different lace and gorgeous finish. The skirt itself is made of two pieces, a black underskirt overlaid with a black lace fabric over. The waist is decorate with the same lace as the top.

Fashion Accessories
Crown: Silver rhinestones adorn the crown. The rhinestone glimmer in gorgeous light.
Sash: The winning sash is printed with "Miss 20th Anniversary". It is accented with rhinestones and gold boarders.
Necklace and Earrings: The accessories are champagne-colored drop beads and transparent cut beads, give the design a sense of elegant beauty.
Shoes: Gold and lame stockings with Pearl-colored high heels with gold glitter are included in the set.
20th Anniversary Charm: The eye changing charm is in the shape of the anniversary numbers 2 & 0. * Comes with a message card.

The face type is Radiance Renewal, the face color is Chocolate (brown skin)
Her hairstyle is long, voluminous hair with bangs and a perm.
The hair color is a nuanced mix of dark brown and brown in a new combination.
The make up is nature yet charming that compliments her skin tone.
The eyeshadow and lids are a bolded brown color. She has special black eyelashes, her blush a full lips are dark red. The shape of the lip is a new model made for this doll.
The eyes are light brown, light blue with metallic light blue backing, dark grey, and blue gray.

Face Type: Radiance Renewal
Face Color: Chocolate (brown skin) *New color
Makeup Color: dark brown eyeshadow, dark pink cheek, dark red lip
Eye Color: brown, light blue with metallic backing, dark gray, blue gray *all special eye colors
Eyelids: Dark brown (molded color)
Eyelashes: special edition Black
Hair Color: Dark brown and brown blended mix
Earrings: Drop pearl and bead earrings
Nail Polish: Dark Pink
Set Includes: Doll, White dress (inner and outer dress), black dress (bustier and skirt), cape, petticoat, tasuki, stockings, shorts crown, earrings necklace, shoes, card and short stand for dress(14.5cm).

*Specifications may differ from final product.

Release Date : JULY 2021