Neo Blythe "Suri Sustainable" final specifications are announced.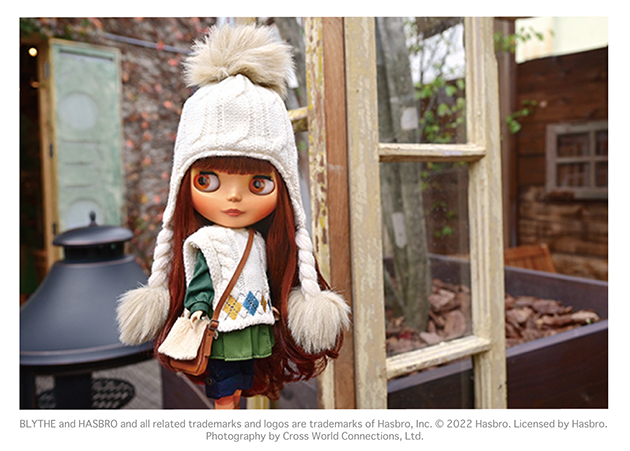 I know it can be a challenge to live in a way that is friendly to the natural environment.
I'm going to keep trying to make it happen.
Enjoying handmade goods and growing my own vegetables are all part of my lifestyle!
I want to live sustainably so that I can continue to live a life of abundance while preserving nature and its resources.
"Suri Sustainable" is all about natural-colored knits!
Her outfit is coordinated with a base of off-white, green, and navy, with accent colors added with fashion accessories.
The argyle embroidered cable-knit vest fastens on both sides with a belt to create a cinched look.
She wears a hat with cable-knit ear covers that match her knitted outfit, with large pom-poms strung onto the tips of the earpieces and the top of the hat.
Her tunic-type blouse is made with two shades of green fabric switched at the top and bottom, paired with corduroy shorts.
The shoulder bag designed with faux fur on the flap is perfect for winter outings.
A pair of orange border tights and light brown half boots are on her feet.
The face type is Radiance Evolution and the face color is Latte (tanned skin) with a healthy image.
Hairstyle is long, permed dark brown hair with bangs.
Makeup is done in a healthy look that blends in with her tanned skin! Eyeshadow is olive green, blush is orange, and lips are salmon pink.
Eye colors are brown (front *special color), blue (right), light green (front *special color), and orange (left).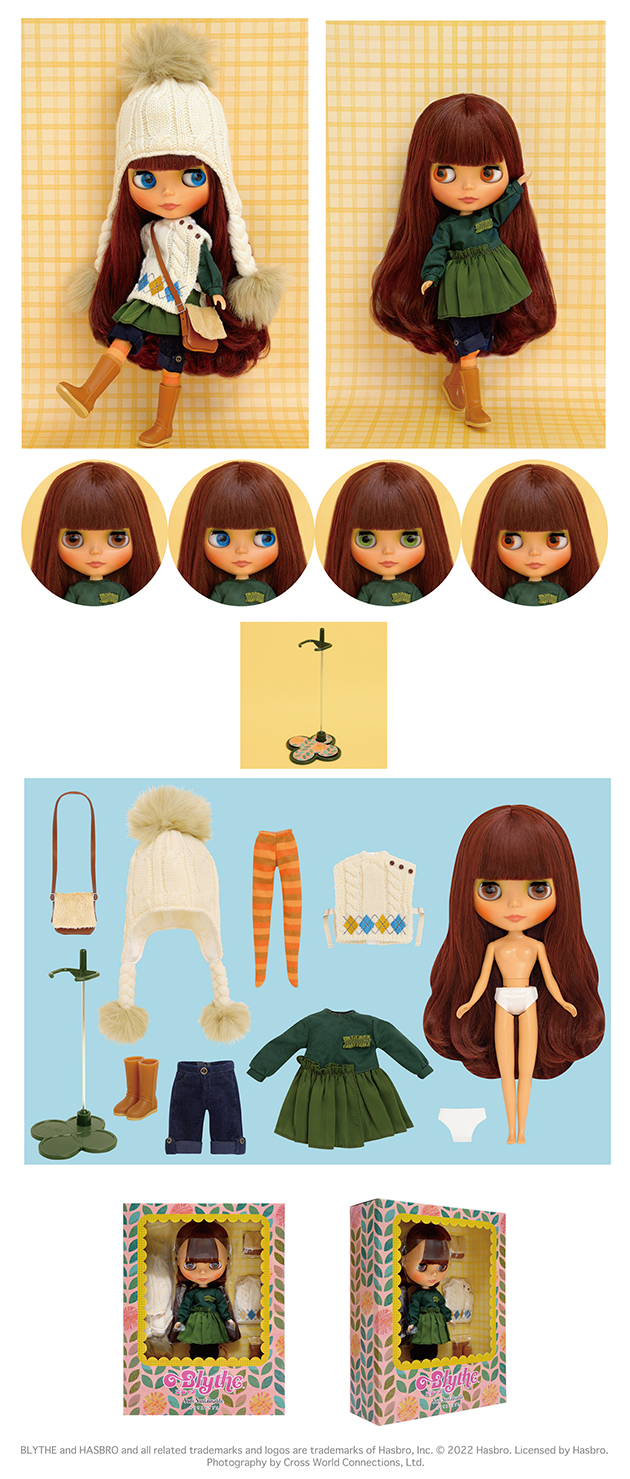 【Face Type】Radiance Evolution 
【Face color】 Latte
【Eyeshadow】 Olive green, Lip: Salmon pink, Blush: Orange
【Eye Color】 Brown (front *special color), Blue (right), Light Green (front *special color), Orange (left)
【Eyelid】Default (skin color)
【Eyelashes】 Default (Black)
【Hair Color】 Dark Brown
【Piercing】 None
【Manicure】 None
Doll, tops, vest, hat, pants, tights, bag, boots, shorts, stand (waist support type)
*This product is intended for ages 15 and up.
*Specifications may vary from product to product.

Release Date : NOVEMBER 2022