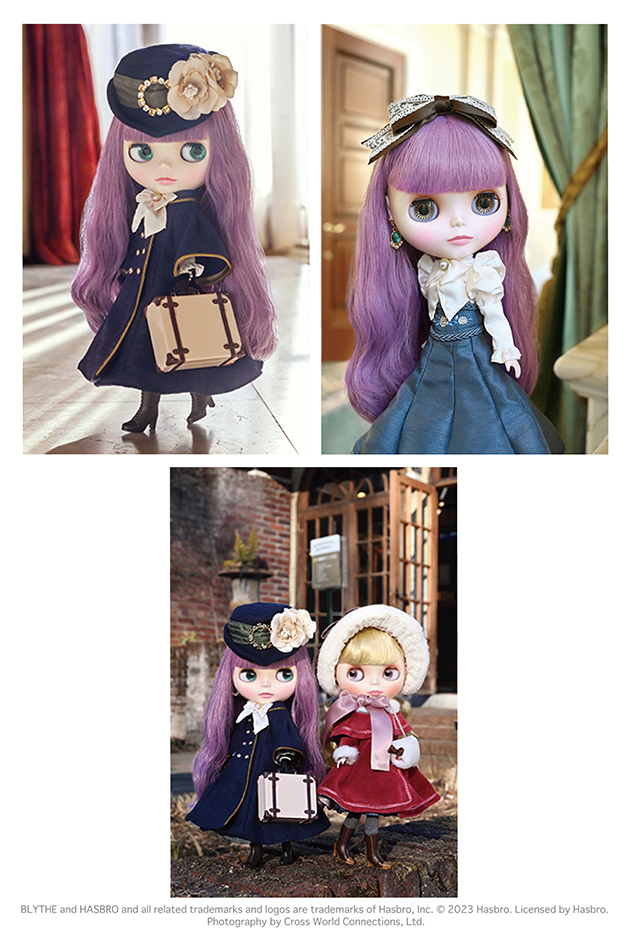 The train pulls in and our journey begins.
This steam train will take us from the highest mountain to the lakes below.
We are excited to go on the greatest railway trip in the entire world.
My name is Quinn and with me is my little sister Mary. We have begun a quintessential journey.
"Quintessential Journey" wears a navy coat and a gorgeous hat that brings out her pinkish-purple hair.
Gold trim accents her long coat with double buttons. Pearl buttons decorate her blouse, along with a bow tie and ruffles on the shoulders and cuffs.
A high-waisted long skirt matches her beautiful top. The design is elaborately detailed with rose flower embroidery, braid, and picot lace.
On her hat, sizeable champagne-colored roses and a ribbon with a rhinestone buckle give elegance to her look!
She has a lace and ribbon hairpin, blue-green rhinestone and pearl earrings, decorated gloves, lace boots, a suitcase, and knee-length underwear for her other accessories.
The locomotive ticket is printed on the box. Cut out and play!
The face type is Radiance Evolution, and the face color is cream.
Her fine pinkish-purple hair is another charming element of "Quintessential Journey!" The hair is long, permed style with bangs.
Her lavish makeup is exceptional.
For the eyes, eye shadow and eyelids (shaping color) are dark brown, and black eyelashes with longer lashes at the corner of the eyes.
The blush is pink, and the lips are bi-colored coral pink (upper lip) x pink (lower lip).
Eye color is light brown (front), blue-green (right), blue (front), and dark brown (left), all set in unique colors for attractive eyes★.

[Face Type]Radiance Evolution
[Face Color] Cream
[Makeup] Eyeshadow: dark brown, Lips: bi-color pink and coral pink, Blush: pink
[Eye color] Light brown (front), blue-green (right), blue (front), dark brown (left) *All special colors
[Eyelid] Dark brown (molding color)
[Eyelashes] Black with special specs
[Hair color]Purple with a pinkish tint
[Piercing] Yes
[Manicure] Pink
[Set includes] Doll, hat, ribbon, coat, blouse, skirt, earrings, gloves, drawers, socks, shoes, trunk, stand (foot support type)
*This product is intended for ages 15 and up.
*Specifications may vary from product to product.
*"Song of London Mary" in the image is not included.

Release Date : FEBRUARY 2023